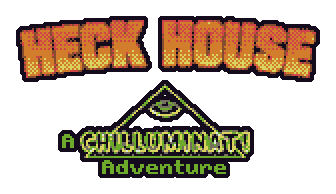 Heck House - A Chilluminati Adventure
The Chilluminati Podcast is a Comedic Paranormal & True Crime podcast hosted by Jesse Cox, Alex Faciane, and Mike Martin.

This is a short, puzzle-filled adventure game made for them for their 2nd Anniversary by Axol Studio.

Check out the podcast at https://chilluminatipodcast.libsyn.com/
Check out Axol Studio at: https://axolstudio.com/
Controls
Keyboard:

MOVEMENT: WASD or Arrow Keys
CHECK: Z
SWITCH: C
PAUSE / CHARACTER INFO: P
Gamepad (Windows Version Only):
MOVEMENT: D-PAD / Left Analog Stick
CHECK: A Button
SWITCH: B Button
PAUSE / CHARACTER INFO: Start
Sound Controls:
+ / - : Adjust Volume
0: Mute
Also: You can ALT+ENTER to toggle Fullscreen in the Windows version.
Made in St Louis using

HaxeFlixel.
Download
Click download now to get access to the following files:
Comments
Log in with itch.io to leave a comment.
Nice short coop game
I almost got stuck until I realized that each character has his own unique traits.